An Overview Of Vilnius' Nearby Neighborhoods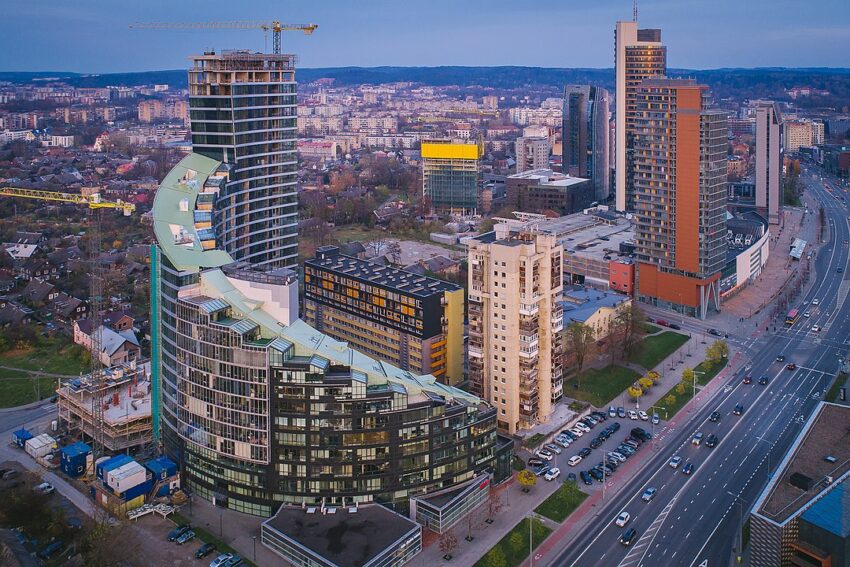 If you're new to Vilnius, you'll no doubt have already seen beautiful photos of the old town and the city center. But of course, people – many people – exist outside of those central areas!
In case it wasn't obvious, there are areas beyond the center of Vilnius with newer buildings, older forests, areas with lakes, and a whole bunch of other things you'll want to experience for yourself.
This will be a guide that covers some of the main neighborhoods of Vilnius to give you an idea of where everything is.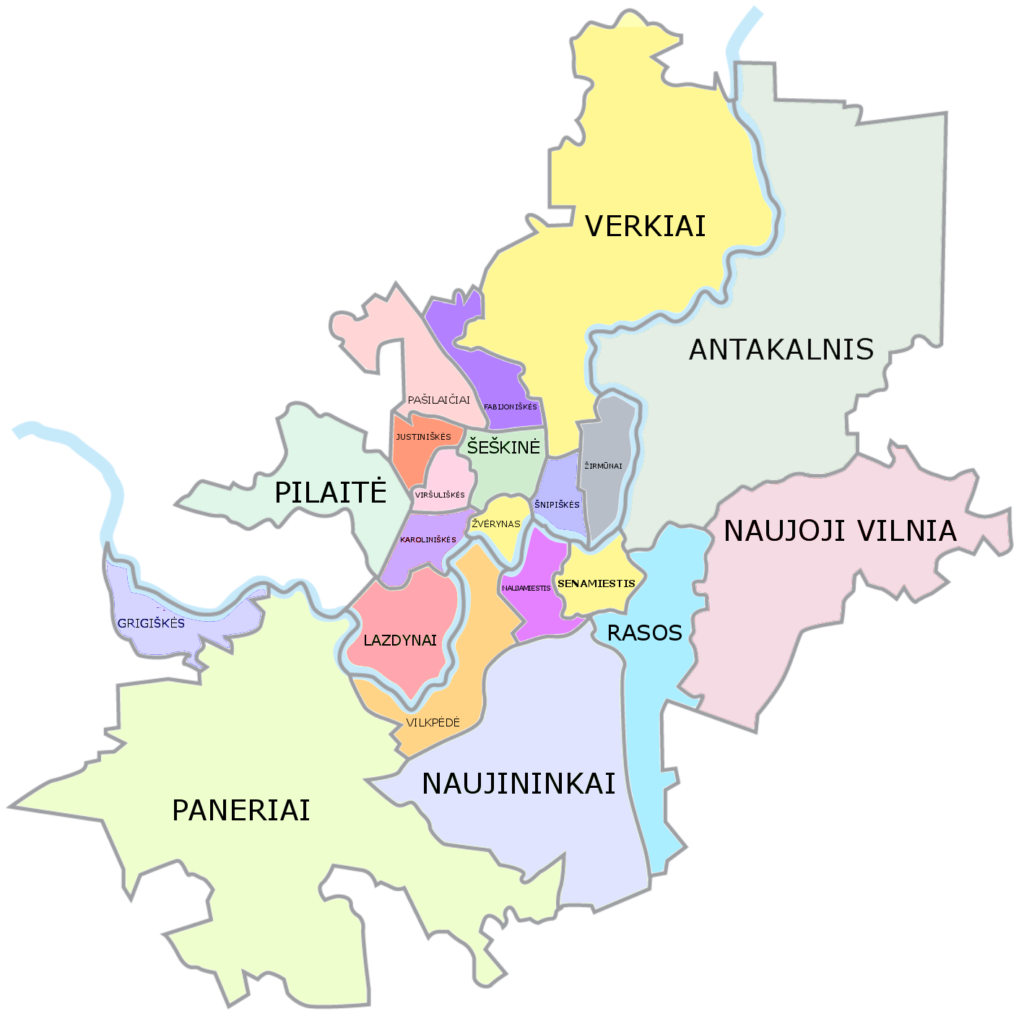 Senamiestis: The heart of Vilnius
First on the list is Senamiestis- which is Lithuanian for 'old town.' This makes up most of what people would refer to as the city center and has the city's oldest streets and buildings. Famous landmarks include Gediminas Castle and Town Hall- and much much more.
Being the most scenic urban area of Vilnius, Senamiestis would be the most expensive area to live in. On the plus side, however, pretty much everything you need is within walking distance- except for perhaps the airport… although it's actually quite possible to walk there too!
It's extremely walkable here – except for the fact that sidewalks can sometimes be very narrow and there might be a lot of people around. Buses don't really go through the core of the Old Town and instead drive along the outer edges. The one big exception is the 89 bus, which seems to be more for tourists anyways. It's quite small and infrequent.
Senamiestis also technically includes the area around Stotis, which is the main bus and train station area. Known as the Station district for obvious reasons, most locals would warn newcomers to avoid this area – especially at night – as shady individuals tend to hang around here at all times of the day. However, the area is undergoing a revitalization of sorts and is actually quite a safe place to be, especially during the day. It even made it as Time Out's 2021 5th coolest neighborhood in the world, so it can't be all that bad right?
Paupys & Užupis: Hip, Trendy, & Quaint little Neighborhoods
Distance from city center: 5-10 minutes on foot
On the east side of the Old Town are the areas of Paupys and Užupis. Just across the small Vilnia river, Užupis is well known as the artsy Bohemian alternative neighborhood of Vilnius. Like other parts of the old town, living here will be on the more expensive end of the scale.
Just beside the Old Town on the east side is the young neighborhood of Paupys. Most of the apartments here were built in the last few years, as is the neighborhood's business center and food hall. It's small, quaint, and peaceful during most times of the year. Since everything is brand new and somewhat trendy, the rent here can be as much as living closer to the city center. It's situated under a flight path though, so if you are sensitive to aircraft noise, you may not want to keep this in mind.
Naujamiestis: Close to the core
Distance from city center: 15-30 minutes on foot
On the other side of the old town is, well, the new town – also known as Naujamiestis. Despite the name, it's actually not that new… but it's newer than the Old Town (Senamiestis)… of course!
Up the hill from the city center, a lot of Naujamiestis is within walking distance of the Old Town but this district is also quite well-serviced by public transit. Here, housing prices can be cheaper than the Old Town and, naturally, the further away from the city center you are, the cheaper the rent tends to be. This neighborhood doesn't have any particularly large shopping centers, but there are a few large supermarkets. There's also a large cinema complex a little further west.
This neighborhood is also where you will find the Faculty of Medicine for Vilnius University – something to keep in mind if you're going to be a medical student here!
One of the best parts about Naujamiestis is that it sits along the big and beautiful Vingus Park. Situated along the Neris river, this park has plenty of walking and bicycle paths and also has its own amphitheater and stadium. Also on the grounds of this park are the botanical gardens of Vilnius University.
Oh! And the 3G airport bus passes through Naujamiestis, in case that's something you're interested in!
Žvėrynas: Quiet, Green & Wealthy
Distance from city center: 25-35 minutes on foot
Across the river from Naujamiestis is Žvėrynas. This is a fairly quiet neighborhood full of historical houses and even a few embassies. It is also connected to Vingis Park by a beautiful yellow bridge.
Living here can be on the more expensive side, and, depending on the type of property, can even be just as expensive as the Old Town. With tall old trees lining many streets in Zverynas, it seems like this is more of an upscale prestige neighborhood, suited for those who want to live near the city but away from the noise and busy-ness of more central areas.
On the edge of this neighborhood is the Panorama shopping center, so you should have quick access to shops and services. Many long-distance bus services also stop at/outside Panorama.
Šnipiškės: The Business District (and beyond)
Distance from city center: 20-50 minutes on foot
Alongside Žvėrynas is Šnipiškės. This neighborhood stretches from the river all the way up to the street across from Ozas shopping center. As usual, the closer you are to the river and the city, the more expensive housing will be.
The main areas of activity within Šnipiškės are the CUP and Europa shopping centers, as well as Kalvariju Turgus (market)- on the west side. This district/neighborhood is also home to Vilnius' business district with all of its tall skyscraper office buildings. On the northern edge of Šnipiškės is the Compensa Concert​ Hall.
There are a lot of new housing developments popping up in this part of town so it should get more and more lively here as things continue to develop.
Žirmūnai
Distance from city center: 40-50 minutes on foot
Žirmūnai is located beside Šnipiškės on its east side. Some apartments and properties in this neighborhood can be somewhat affordable, but anything close to the river will probably cost more.
The highlights of Žirmūnai are its riverside park areas and the area known as Šiaurės Miestelis the site of a quaint little shopping complex and the mall known as Outlet Park and Ogmios Miestalis.
You can walk to the city center from here, but it might take a little longer – especially if you live on the far edges of the neighborhood. However, there is decent bus service that connects to the center.
Antakalnis
Antakalnis as a city district is actually quite extensive, but we'll focus on the riverside area that neighbors the city center.
Although it sits along the river, it has less riverside park area than Zirmunai. However, there is a large forest area a little further away from the river, and here you'll find plenty of nature and hiking trails. This part of Antakalnis is also home to the beautiful Church of St. Peter and St. Paul. Constructed in Baroque style, Go Vilnius says it's recognized as one of the most beautiful Catholic churches in the world.
Conclusion
Hopefully this gives you a good overview of some of Vilnius' close-by neighborhoods. There are several more further away from the city, like Karoliniškės, Baltupiai, and more. In fact, there's around 20 in total, which is a lot to cover! But if you'd like to see a particular area discussed, please leave a comment down below, and we'll add it when we have time!