Hot Air Ballooning In Vilnius: What You Need To Know
Going for a hot air balloon ride – if it fits within your budget – is certainly a memorable experience to consider when visiting Vilnius! There are very few cities in the world where hot air balloon flights take place and, if the winds are right, then you could get a good few of the Old Town and historic city center.
In this article, I will go through my personal experience with booking a hot air balloon ride, some of the challenges with this, how to prepare yourself for a ride, and what you can expect from the experience.
Booking a flight
The first thing to note is that there are many hot air balloon companies in Lithuania, so experiences may differ between companies. But there are a few things to consider regardless of the company.
It's mostly about the weather…
So the first thing you need to know about reserving a hot air balloon ride is that it's 100% dependent on the weather. Flying in bad weather would not only be an unpleasant experience for passengers, but it also presents a safety risk. Strong winds, rain, and low clouds are all factors that will likely mean that your flight is canceled.
So, the big first lesson when planning a hot air balloon ride in Lithuania, is to adjust your expectations and have a back-up plan if you booked your flight far in advance.
In fact, if we think only about the weather, then it's probably best to book at the very last minute – or maybe a day or two before, when the forecast is most predictable. But of course, you will then need to worry about capacity and available spots, so that is the risk you'll take.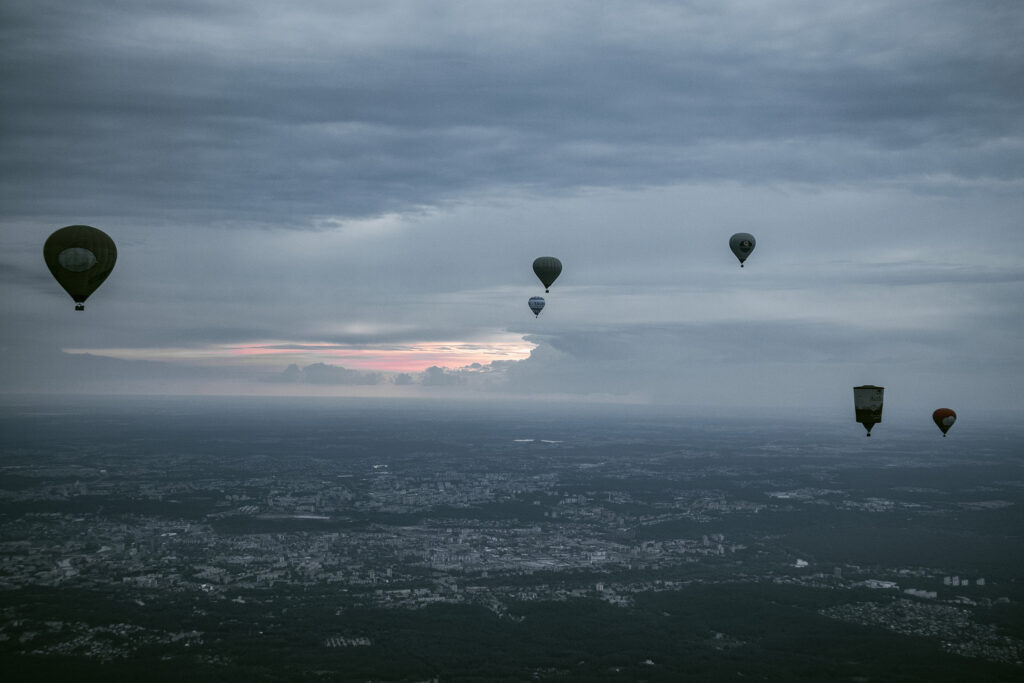 Of course, good weather is generally more common and predictable in the summertime- but it's Lithuania…and rain is something that can happen at all times of the year!
But, as Tomas from Balloon.lt informed me, some flights can even be canceled on perfectly clear and sunny days- in Vilnius at least. That's because regulations state that hot air balloons can take-off in the city, but they MUST land outside of the city for safety reasons. So, if there is little or no wind on the day you're flying in Vilnius, then a flight may need to be canceled!
A minimum number of passengers is required
The second thing you need to know is that flights can only take place with a minimum number of people. … or, for the right price!
If you have the money, you can book a private flight for 600 to 800€. However, if that's a little too much for you and you are hoping to fly for around 150€, then the company will need to have enough people booked to fill up a hot air balloon basket.
This might be easy during the warmer seasons, but perhaps more difficult during the fall, winter, and early spring. Of course, finding five or six other friends to join you will help – but again… have a backup activity if the weather doesn't work out!
Getting to the launch site
In Vilnius, there seem to be three main launch sites. Where hot air balloons takeoff is determined by the weather, and typically all hot air balloons from all companies will depart around the same time from the exact same location. As I understand it, the three locations are:
The middle field of Vingis Park (Google Map link here)
The field on the north side of the Neris river, across the white bridge and by the CUP shopping center. (Google Map link here)
Valakampiai Beach I (Valakampių I paplūdimys). Located in the northeast corner of the city, there is a beach I and a beach II. This is the furthest launch site and perhaps the most inconvenient to get to, although some or most companies provide transportation. (Google Map link here)
On sunny summer days in Vilnius, hot air balloons lifting up from Vingis Park is a common sight that takes place between 6:30pm and 7:30pm. This is something that is quite fun to watch at the park if you have no plans to fly! If you did book a flight, you'll obviously be informed of the time and location you should arrive.
Set up takes about 30 minutes but the ultimate call to allow takeoff is the responsibility of the Vilnius International Airport.
What to bring
So, even if you're flying on a warm summer evening, I would recommend having warm clothing with you. It's much colder at high altitudes – not to mention that winds could make things even colder. Pants, a warm layer or jacket, a hat, and sunglasses are some of the things you might want to add to your list.
On top of warm clothing, I would recommend wearing comfortable footwear that will make it easier to climb in and out of the basket while also standing for an extended period of time. My ride took about one hour – so that's about the amount of time you'll be standing in one place.
And of course, if you want to collect and share memories of your experience, you'll want to bring a camera with you! Whatever device you use to capture the flight, you'll want to make sure you have a good grip on it and keep it safe from falling overboard. If it's a camera, maybe have a neckstrap. And if you are prone to accidentally dropping things, maybe invest in a phone tether or lanyard – so that no one on the ground gets hit on the head with a smartphone!
One company owner tells me that in his hundreds of hours of flying, he's never had a passenger drop something overboard. HOWEVER, he does know other hot air balloon pilots who have seen it happen- so just be careful – for the sake of the people below, but also to keep your expensive devices with you!
Check-in
Upon arrival, find your hot air balloon company and check-in. You may be asked for your weight during this process. Don't get offended! It's part of the process, since pilots need to calculate this for the flight. Not only does maximum weight depend on the passengers but also on the temperature! Hotter temperatures mean that the balloon needs to be lighter. This is obviously less of an issue during colder months of the year.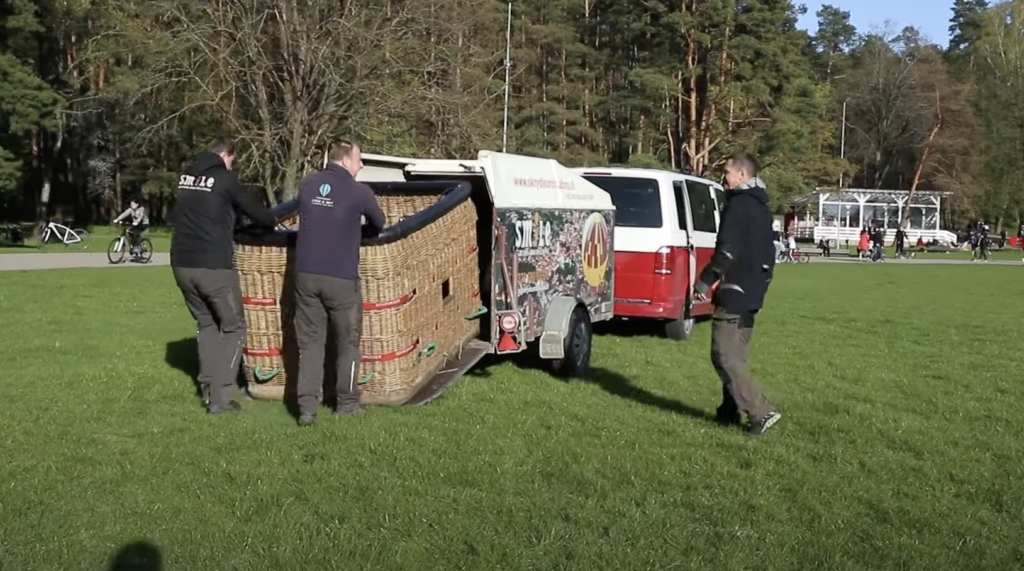 The pre-flight time feels chaotic with numerous balloon companies setting up across a big field and fans blowing and flames blasting loudly to get hot air filling up the large balloons. It makes for unique and fun photos, but if you feel up for it, you can also ask your hot air balloon company staff if they need help!
Before hopping in, you should be given a safety briefing and introduction.
The "inflight experience"
Lifting off for the first time is a surreal experience. Since there's no engine running, you are literally floating up and off the ground – and quite quietly too! In fact, you may not even notice it at first because the basket is so thick and sturdy. This is one of the best parts of hot air ballooning: The quietness of the flight.
Ultimately the winds will determine where you end up traveling. While you can see Belarus and its controversial nuclear power plant in the distance, the owner of Balloon.Lt assures me that none of his flights have ever accidentally flown into foreign airspace. So you probably don't need to bring your passport with you!
On our flight, we ended up flying south of Vilnius. Part of this cool experience was seeing one aircraft land and another aircraft take off a few minutes after. The airport coordinates closely with hot air balloon pilots over the radio and will direct them to fly higher if it's needed.
Landing and getting home
I'm guessing that landing is the most challenging part for the pilot. Since there's no motor or fan directing the balloon, I believe pilots must mostly make their judgements on altitude and windspeed and direction, knowing the best times to release hot air and sink closer to the ground.
Landing can be a little rough so hang on tight! Speed is one factor but it partially depends on if a company employee gets to the landing spot in time to help catch and stabilize the balloon. Hopefully, you don't land in a field full of mosquitos but this is a possibility, so long sleeves and maybe even insect repellant will be useful for this time.
After getting out, it will be good to help with balloon deflation and packing – if you are able! It's not required at all, but it would certainly help you and everyone else get home sooner. There may or may not be a little ceremonial gathering to celebrate a successful landing. I know Balloon.Lt does this, and I wouldn't be surprised if other companies did something similar.
With everything packed up, you'll hop in a van to be taken back to the city to be dropped off in the location of your choosing. If you didn't pre-pay for your flight, the company might have a card-payment terminal in the van, or they might only take cash; it's best to ask!
Conclusion: Try it if you can!
There are a lot of hot air balloon companies out there but here are a few that I could find:
Good luck!