Vilnius Public Transportation: A Beginner's Guide
Last updated: July 2023
In terms of population, Vilnius, Lithuania isn't a huge city by any means. Still, with an area of 400 square kilometers, or about 250 square miles, it helps to have a good public transportation system for people who don't drive. So in this article, we examine the basics of the bus system that serves Vilnius.
Formally named Vilniaus viešasis transportas, or VVT- the name simply means Vilnius Public Transport in english. The system consists of standard-sized fuel-burning buses, longer articulated buses, and the good old iconic trolley bus. There's also my personal favorite, the cute little electric community bus that makes its way through the old town and other parts of the city center.
Interested in learning about the Kaunas bus system? Click here to see our guide!
How to get ticket/pay for your fare
The first thing you probably need to know is how to get a ticket! Vilnius public transport works on somewhat of an honor system. The bus driver does not/isn't responsible for checking each passenger's proof of payment. Simply, all riders are expected to have it. But before getting into how this is enforced, let's look at the three ways of paying for a ride:
#1: Cash payment
From 2020 to 2022, bus drivers weren't accepting cash payments, but thankfully this is reverted to 'normal' pre-pandemic conditions.
For those who don't travel often, or find themselves getting on a bus at the very last minute, you can purchase a paper ticket from the driver. For 'normal' people, the price of a ticket is 1 euro. But if you are in a particular discount category (students, seniors, etc), then the ticket will be 0.50 or 0.20. The ticket provided by the driver must be stamped using the little black/orange validation machine near the driver. Unlike card and app-based tickets, which are valid for a certain period of time, paper tickets are valid until the final stop of the route without the right to transfer to another vehicle.
#2: Public transport card
The next method of paying for the bus is purchasing a bus card that stores your trip tickets. This is called the Vilniečio kortelė– or Vilnius resident card in English. This card stores the various tickets you purchase- whether it's tickets for 30 minutes, 60 minutes, a day pass, or even a pass for 12 months.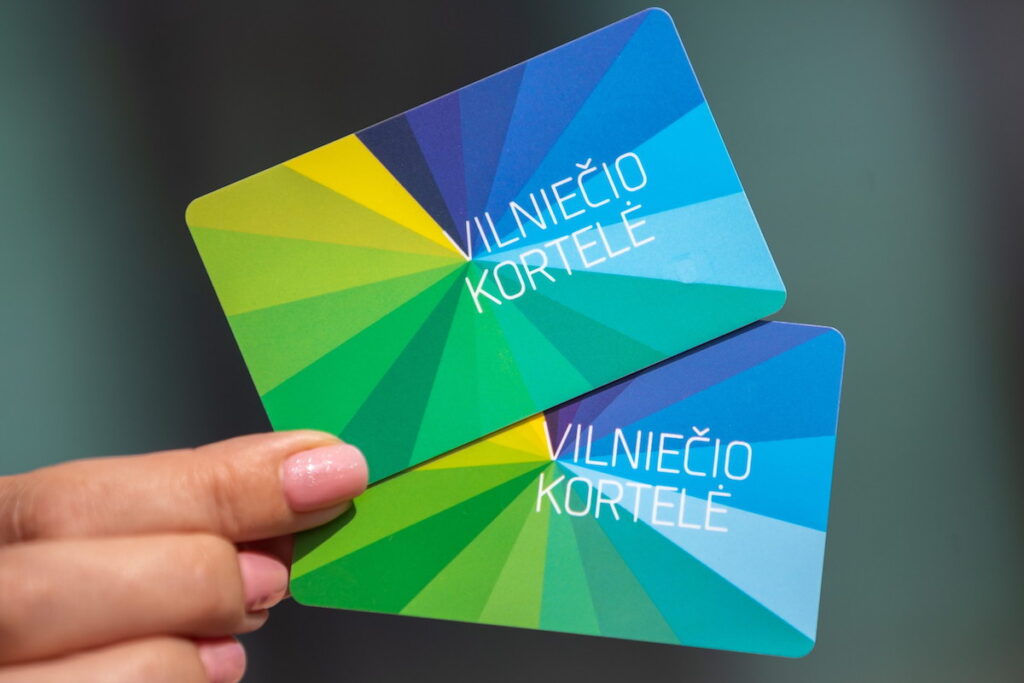 While this might seem like something for long-term residents, it's actually easy-enough to acquire if you're only here for a weekend!
At Customer Service Centres

Gediminas Ave. 9A (Vincas Kudirka Square)
Geležinkelio g. 16 (Vilnius Railway Station)
Konstitucijos pr. 3, 1st floor (Vilnius City Municipality)

Maxima and RIMI supermarkets;
Lithuanian Post Offices (Lietuvos Paštas);
Narvesen and Lietuvos Spauda locations.
Probably the most convenient is going to a Narvesen. Narvesen convenience stores are everywhere- and if you're flying into Vilnius for the first time, you'll find one of these convenience stores located in the arrivals building of the airport, after you collect your baggage.
IMPORTANT NOTES:
When buying a card, you can set-up your card in two different ways: Straight-up money/credit, and tickets. If you load up your card with a cash amount, you'll have to get on the bus, hold the card to the reader (new black/orange machines), and then when the proper screen appears, choose whether you want to spend your credit on a 30-minute or 60-minute ticket.
At the time of the last update of this article, machines on the bus DO NOT accept credit card. There are rumors that this will eventually happen, but it is not yet available as it is in other cities.
If you're new to Vilnius (and Lithuania), then, to make things easy on yourself, just get your card loaded up with tickets. If you have tickets loaded, then all you have to do is tap your card at the reader on the bus and wait to hear the beep. If you're not sure of how much time you have left, you can always tap it again to check (although if you're out of time, you might end up activating another ticket).
If you buy a pass (day pass, monthly pass, etc), just tap once to activate it and you won't need to do it again for the duration of the pass. Just make sure you carry your card with you for when ticket inspectors check passengers.
While most younger people speak English, there's no guarantee that every store worker will understand you- so it might be best to show a picture of the card and maybe write down on a piece of paper the type of tickets you want and the quantity. For example, I might write down on a piece of paper something like "10x 30 min." if I wanted 10 30-minute tickets.
There's usually a little picture of the Vilniečio kortelė somewhere at the counter so you can also point to that too.
Although the public transport website says both 30-min and 60-min tickets can be put on the same card, I wasn't able to do this- and staff at a customer service office told me the same thing.
#2A: Refilling your card
To re-fill your card you can either go to a Narvesen or the customer service section of other participating stores/supermarkets – or you can go to a proper customer service center (listed above). HOWEVER, you can also buy tickets and add them to your card online at: https://mano.judu.lt/en/selfservice/
On this site, you can also register your card. This is extremely helpful if you spent a lot of money on a monthly or multi-month pass and somehow lose your card. According to the official site, you'll be able to suspend the card in the "Settings" section after logging in at judu.lt. Then, at customer service centers, you can transfer the tickets/credit/passes on the lost card. Do keep in mind that you will need to provide an identity document and the number of the lost card if you want to transfer to a new card.
#3: Smartphone App
If you're good with tech, and always have a charged smartphone with you, then there are two apps available: Trafi and m.Ticket. Trafi is available on both iPhone and Android while I believe mTicket is only available on Android. I'm a Trafi user and it's been a convenient method to buy and use tickets for Vilnius public transport.
The smartphone app concept is similar to the bus card: Buy your tickets (or passes) on your phone ahead of time and activate them when you get onboard. It's as easy as that!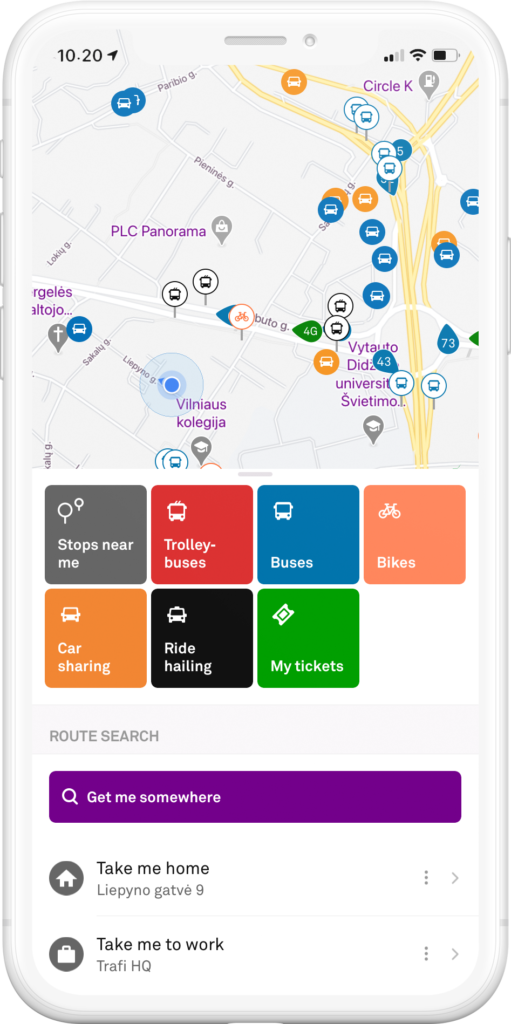 Actually boarding and using the bus
You can board at any door of the bus. These days, post-COVID, bus drivers tend to keep the front door closed, and so it seems like they prefer passengers used the middle and rear doors for entry and exit.
I'm sure if you stand at the front door expecting to be let in, they will open it for you – but it's not by default. The same goes for exiting: You can stand at the front door and make eye contact with the driver and hope that they'll open it for you to exit.
Also note that, unlike some cities, you won't need to pull a string or press a button to instruct the driver to stop at the next time. Some cities do this and will skip stops if no one is waiting at the stop and no passengers press the stop button. In Vilnius, drivers stop at every stop regardless of the presence of passengers. The names of upcoming stops will also be announced over the sound system and if you hear "kita stotėlė," this means "next stop." Most buses are also fitted with TV screens to show upcoming stops. This is usually accurate but from time to time may have display errors.
Ticket/fare enforcement
Now you might wonder what's stopping someone from getting on a bus and NOT paying for a ticket. Well, to enforce the rules, there is this thing called Kontrole. Essentially, this takes the form of a little minibus and a team of about three enforcement officers who randomly park themselves at various bus stops throughout the city, throughout the day. You won't know where or when they'll step onboard to check your tickets- and that's why you'll always want to have a valid ticket with you whenever you're on the bus!
If you're caught without valid fare, you'll be escorted off the bus and onto their minibus- which kind of acts like a mini temporary jail. Here, you'll have your information taken down, and you'll be issued a fine that you'll have to pay. I've heard that, more recently, you can have the option to pay a fine right away with a card reader and move on with your day. At the end of the day, it's best not to experience this for yourself!
Note: 30 & 60 minute tickets have a 10-minute grace period, effectively making them 40 & 70 minute tickets respectively. This is noted on the Judu website on the ticket types and prices page- within the FAQs for short term tickets. It might be a good page to have bookmarked on your phone if your ticket time runs out and Kontrole pulls you off the bus!
Advice from a local
I'll end this piece by briefly saying that the Trafi app is one of the best ways to navigate the bus system and get information on bus times and routes. Google Maps works to an extent, but after more than a few years of experience using both apps for public transit, I can tell you that Google Maps isn't always accurate. Trafi, on the other hand, works as well as Google Maps for navigation, but has the added functionality of bus schedules and ticket management- so it's highly recommended!
*Disclaimer: This is an unofficial guide to the Vilnius bus system and information may not be 100% accurate or up to date. If you are unsure, it's recommended to check judu.lt, an official source for Vilnius public transport information.
Sources/References: Judu.Lt