An Introduction To Rail/Train Travel In Lithuania
If you're coming to Lithuania for the first time, there may be some anxiety or uncertainty about travel and trying to get around the country or region.
This article should help to ease those fears and provide some reassurance that rail travel around the country is fairly straightforward and easy. So here's what you need to know…
#1. Buy tickets online to avoid any uncertainty
Buying a train ticket or booking your seats online is the best way to remove any uncertainty about schedules and pricing. The official website to buy tickets is LTG Link. For your convenience, this is the english version of the site: https://ltglink.lt/en
The site provides schedules and pricing and, for some services, allows you to choose your seat in advance.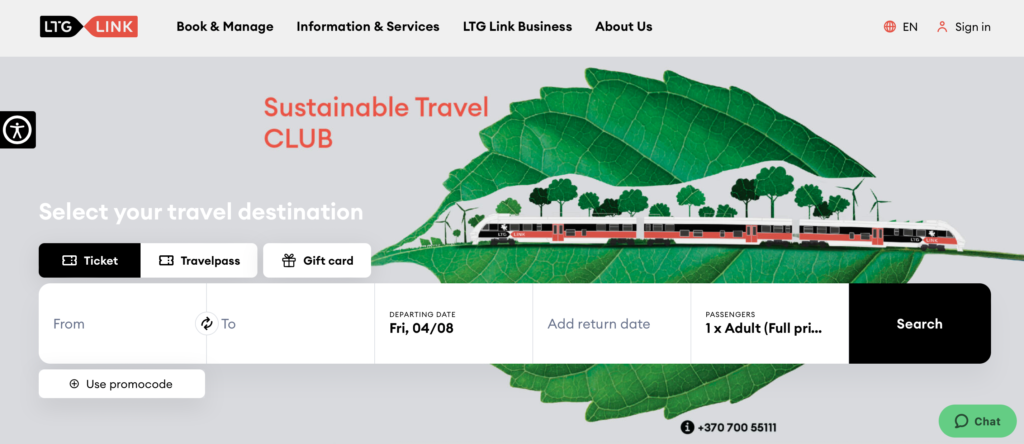 Once you've completed the reservation process, you'll be provided a PDF as a ticket. Don't worry about needing to print this off IF YOUR JOURNEY IS WITHIN LITHUANIA. You can simply have the file on your phone – as long as the conductor can scan the barcode/QR Code on the ticket. The official train website states, however, that rail travel across borders REQUIRES A PRINTED TICKET.
#2. Buy tickets at the station
If you're short on time or don't have access to a smartphone or computer with an internet connection, then buying tickets at the station is easy too.
The only thing to be aware of with this method is that, depending on the station and the customer service specialist you talk to, language may be an issue. My guess is that many agents speak English at the stations in Kaunas or Vilnius, but it's not guaranteed.
As a backup, I would be ready to write down your destination on a piece of paper – just so it's clear where you need to go.
#3. Buy tickets on the train
Now, if you're in a real hurry and the train is about to leave – you can just hop onboard and find a seat and wait to purchase your ticket from the conductor onboard. They will accept cash and card.
The official website states that a 2 euro service charge will be applied to those who buy tickets in this manner.
My assumption is that for stations where there is no ability to buy tickets in advance (such as Trakai), there won't be a service charge.
Other things to know
So, as you can see, hopping on a train in Lithuania is fairly straightforward. But here are a few additional things that you might want to know:
A 5% discount applies when you book a round-trip ticket in one booking. It's a good way to save a little money if you know your exact schedule. However, I've done this a few times for leisure day trips to Kaunas and I sometimes regret doing it – simply because the weather changes suddenly, and I'd prefer to go home much earlier. This return-ticket discount applies only when buying tickets for 2nd and 3rd class train seats.
Free high-speed WiFi is available on some services, but not all.
Longer routes, such as the busy Vilnius-Klaipeda train, will have food service available.
Some trains are new, modern, and comfortable while others are old and uncomfortable.
There is no convenient and reliable direct rail service to Riga, Latvia but there is rail service to Warsaw, Poland.
Good luck and happy travels!