Taking Long-Distance Buses In Lithuania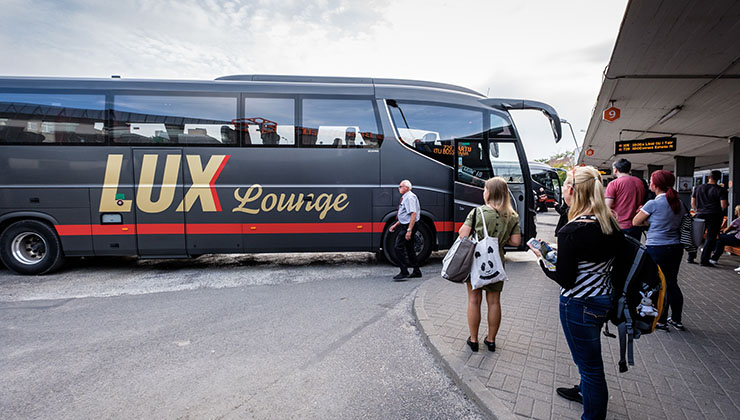 Taking a long-distance bus in Lithuania is easy – and that's why this article will be so short!
This quick guide will apply to long-distance buses operating services within Lithuania, as well as international buses headed to other European countries.

Buying tickets
Online: The easiest way to buy a ticket is to go online. One website that shows all available options from all bus companies is autobusubilietai.lt – which I've linked to the English version of the site. However, you might also be able to buy tickets directly from the bus company websites too. Companies include:
*In general, Lux Express is the most expensive but offers the highest level of service, including WiFi, personal seatback entertainment (bring wiredheadphones!) and free coffee onboard. The "Business Class" service of Eurolines has something similar as well I believe.
Schedules and tickets should show which stand your bus will stop at – in addition to the time, of course.
At the station: Unfortunately, you may not always be able to buy a ticket online. It really depends on the bus company and how they work. Most of the larger towns and cities will have bus stations with counters and customer service staff selling tickets. Some of these stations will also have self-service machines for you to buy tickets yourself. This option is also good if you don't want to rely on a smartphone – or don't have access to a printer.
On the bus (when boarding): Again, depending on the bus service/bus company, you might even have to get a ticket from the bus driver while boarding. It's not always reassuring when you want to make sure there's a seat available, but that's just the way it is for now.
Making matters more complicated is that sometimes the bus driver accepts card, but sometimes only cash is accepted. So if you're planning on taking the bus from a smaller town, then make sure you have some cash available.
Other things to know
Seat assignments: When it comes to longer trips that cross borders, assigned seating is usually respected and enforced. However, when it comes to regional buses within the country, your assigned seat number might be meaningless. So, if you're going to, from, or between small towns in Lithuania, don't be surprised if you board the bus and someone is sitting in the seat number on your ticket. Just find any empty seat available!
The baggage compartment: If you're traveling with large baggage and need to store it underneath, you may need to mention it to the bus driver, since they may not do this automatically. They may not understand English, but I'm sure pointing to the luggage compartment will get your point across!
Toilet: You might be used to buses that have toilets located at the very back of the bus. Keep in mind that some buses have their toilets located in the middle of the bus, down the stairs near the back/middle door.