The Shopping Centers of Vilnius
The nice thing about small or mid-size cities that have grown organically throughout the decades and centuries is that streets are usually lined with all sorts of shops and stores. While this is a wonderful thing to have – especially during nice weather – big shopping centers offer their own benefits and conveniences.
While I personally prefer small shops in the city center, there are two nice things about malls and shopping centers:
They're usually very convenient in terms of finding everything you need in one spot.
They're protected from the weather. So even if you do have to walk from one end of the mall to the other, you'll stay warm and dry.
With this in mind, let's look at the main shopping centers in Vilnius!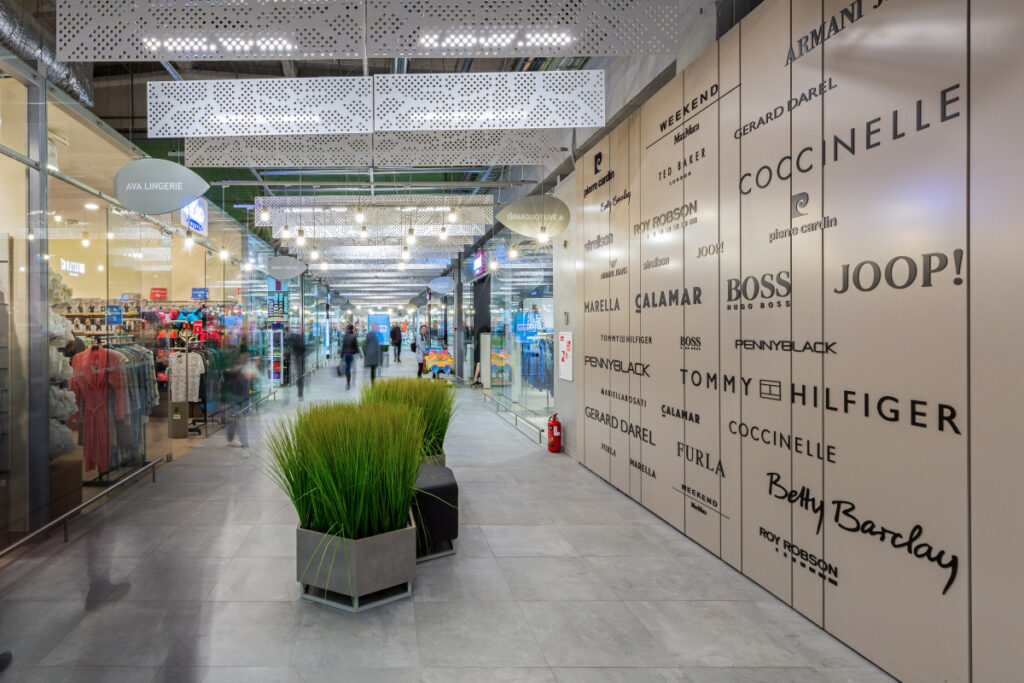 ---
#1. Akropolis
Address: Ozo g. 25, 08217 Vilnius | Šeškinė neighborhood
Starting off with one of the biggest shopping centers in Lithuania, Akropolis Mall is located a little bit north of the city center. While you could theoretically walk here from the city, it will take you about an hour and is all uphill! Thankfully, this place is accessible with a number of buses.
This massive building has its own post office, cinema and ice skating rink. It's also home to the only 4X Maxima in the country and dozens of shops, services, and restaurants. Akropolis shopping centers can be found in other larger cities in Lithuania as well, including Kaunas, Klaipeda, and more.
Official website: https://www.akropolis.lt
---
#2. Ozas
Address: Ozo g. 18, 08243 Vilnius | Baltupai neighborhood (bordering Šeškinė & Šnipiškės)
Literally right down the road from Akropolis is another big shopping center by the name of Ozas – the Lithuanianized name for "Oz." It's not as big as Akropolis. but it has a great selection of restaurants and shops and is also easily accessible by public transportation.
This place also has its own cinema, post office and large supermarket, and is right beside a sports arena and water park.
Official website: https://www.ozas.lt/en
---
#3. Europa
Address: Konstitucijos pr. 7A, 09307 Vilnius | Šnipiškės neighborhood
This shopping center is much closer to the city and is pretty much the heart of the city's business district. This place has always felt a little more upscale than the rest. If you've been there, let me know if you agree or disagree by leaving a comment!
Europa is a little bit smaller than Ozas and much smaller than Akropolis. It doesn't have a post office but it does have a Gym and plenty of shops and several restaurants. 
Official website: https://pceuropa.lt/
---
#4: CUP
Address: Upės g. 9, 09308 Vilnius | Šnipiškės neighborhood
This shopping center is right across the street from Europa, and is home to numerous shops and restaurants. Because its size is a little bit smaller, it has 5 floors and just two elevators- which means it will take a little more time to get from the bottom to the top.
CUP is also home to Upės Terasa – a rooftop terrace that allows for outdoor dining giving a decent view of the river and the city.
Official website: https://cup.lt/en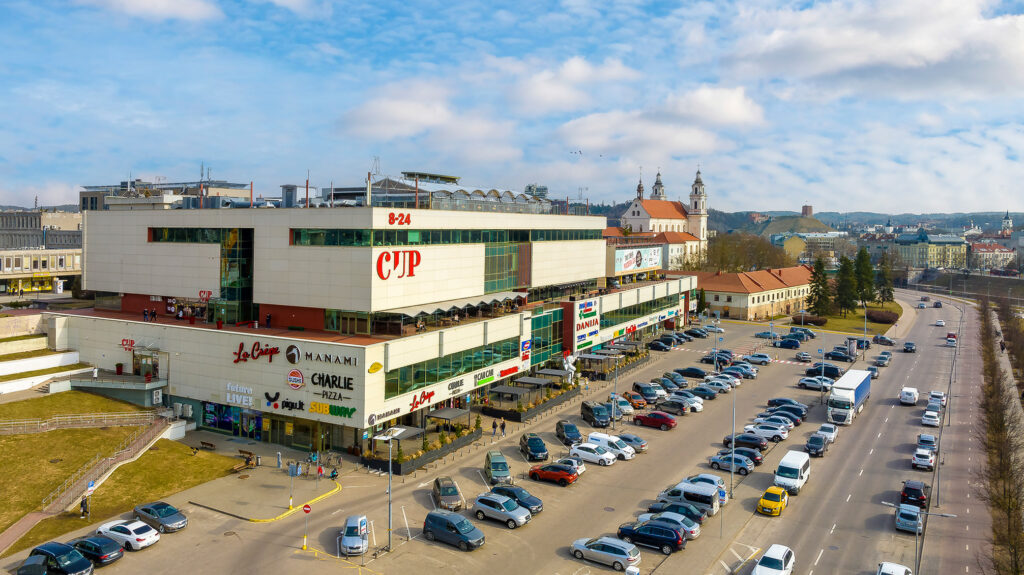 ---
#5: G9
Address: Gedimino pr. 9, 01103 Vilnius | Senamiestis (Old Town)
One of the main areas of the city center is Gedimino Prospektas. It's on this main street we'll find the small G9 shopping center.
It's probably the smallest of the shopping centers mentioned, but it has a number of stores and restaurants, and the only LIDL in the middle of the city center. If I'm exploring the old town, I usually stop by here to get some groceries on my way home. A popular bus stop is also right outside, making it easy to take public transport to Vilnius' northern suburbs.
Official website: https://g9.lt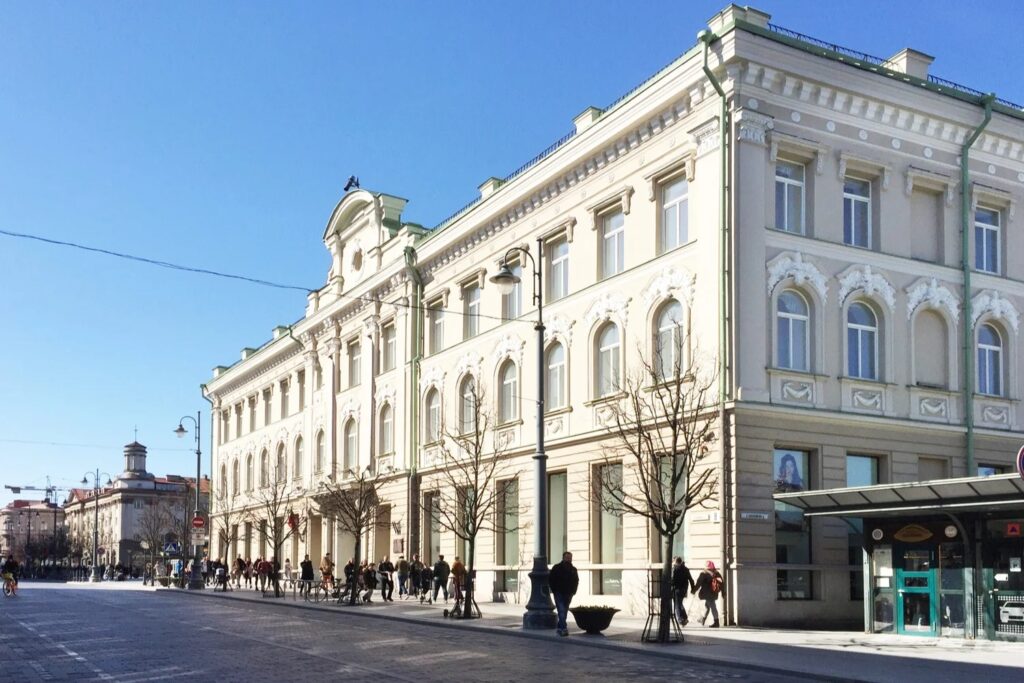 ---
#6. Panorama
Address: Saltoniškių g. 9, 08105 Vilnius | Žvėrynas neighborhood (bordering Šnipiškės)
The Panorama shopping center is closer to the size of Ozas, and has its own post office, Gym Plus, Rimi supermarket, as well as dozens of shops and restaurants. Panorama is also where a few long-distance coach buses stop to drop off travelers who don't need to go all the way to the main Vilnius bus station. While for newcomers, it may feel quite far away from the city, it's maybe just a 15-minute walk to the business district, and a 30-minute walk to the Old Town.
Official website: https://www.panorama.lt/en/

---
#7. Vilnius Outlet
Address: Vytauto Pociūno g. 8, 06264 Vilnius | Pilaitė neighborhood (bordering Viršuliškės)
Vilnius Outlet opened October 2021 and is a large shopping center on the northwestern outskirts of Vilnius. Of course, it also has its own gym and supermarket. In terms of shops, I'm not sure if there is anything uniquely different from the other big malls, but it does have a good diversity of stores. Of the places on our list, this one is probably the furthest away from the city center.
Official website: https://www.vilniusoutlet.lt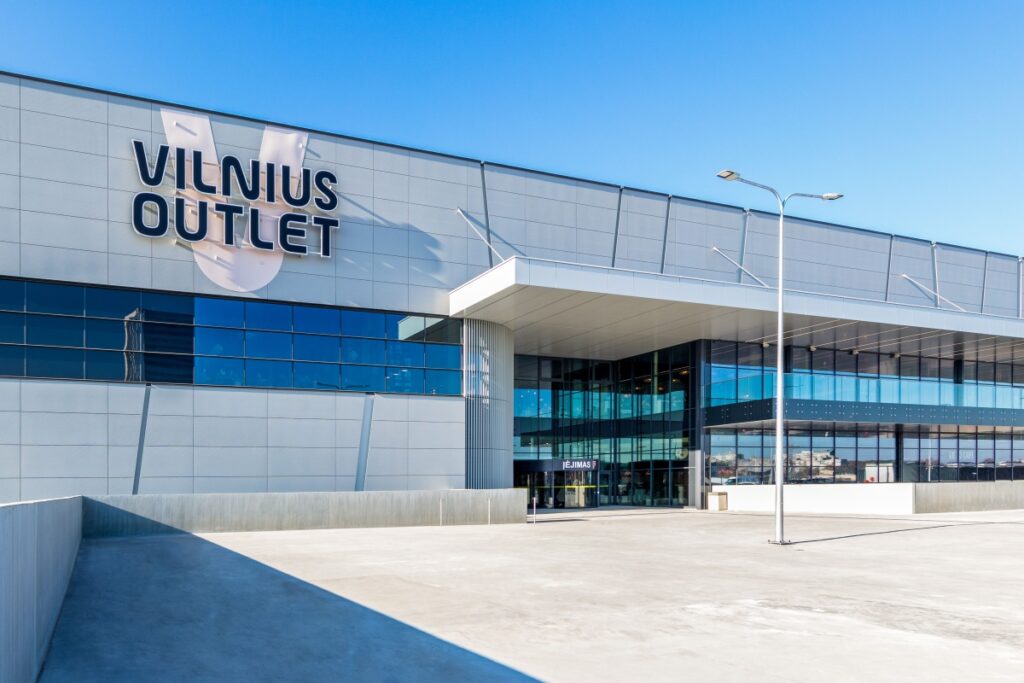 ---
#8. Outlet Park
Address: Verkių g. 31C, 09108 Vilnius | Žirmūnai neighborhood
Outlet Park is located in Zirmunai and has about 100 shops. It's also surrounded by an area called Ogmios Miestas, which is less of a mall and instead designed a little bit more like a small town, with shops all facing the street and sidewalk.
Official website: https://outletpark.lt
---
Your neighborhood Prekybos Centas (PC)
In addition to these larger shopping centers, a core part of the Lithuanian shopping experience is the neighborhood Prekybos Centas (PC), which also loosely translates to shopping center.
Now, each of the malls we just covered would also be considered a Prekybos Centras too, but Vilnius – and in fact much of Lithuania – has smaller neighborhood PCs scattered throughout. These often have a large supermarket as the foundation, with various smaller shops and services within the same building. In one sense, these neighborhood PCs are like mini-malls, where you can get most aspects of your daily shopping taken care of. So, if you're ever moving around google maps or looking out the bus window and you see PC as part of a building name, then it's a Prekybos Centras, or shopping center.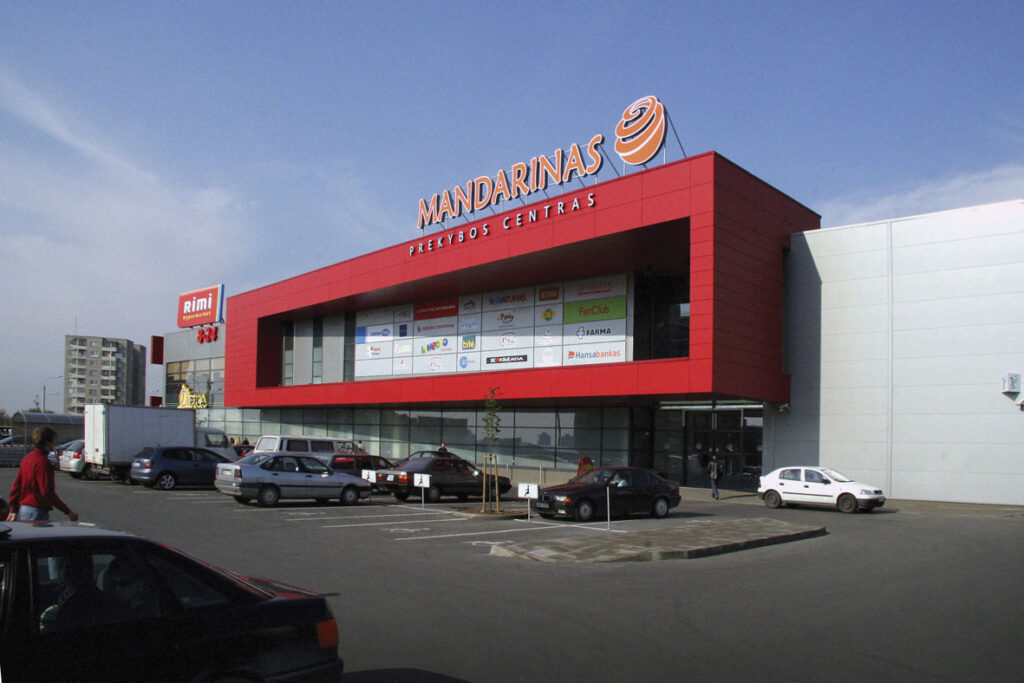 So hopefully this gives you a better idea of the shopping outlets available in Vilnius. Among all of these locations, there's a good chance you'll find everything you need!