Vilnius to Trakai: 5 Ways To Make The Trip
The town of Trakai and its island castle is a must-see attraction for anyone visiting or living in Vilnius. After all, it's just so close!
Driving the 30 kilometers to Trakai will take somewhere between 30 and 40 minutes. Of course, not everyone has a car. So what are the options?  In this article, we'll take a look at five ways to get from Vilnius to Trakai.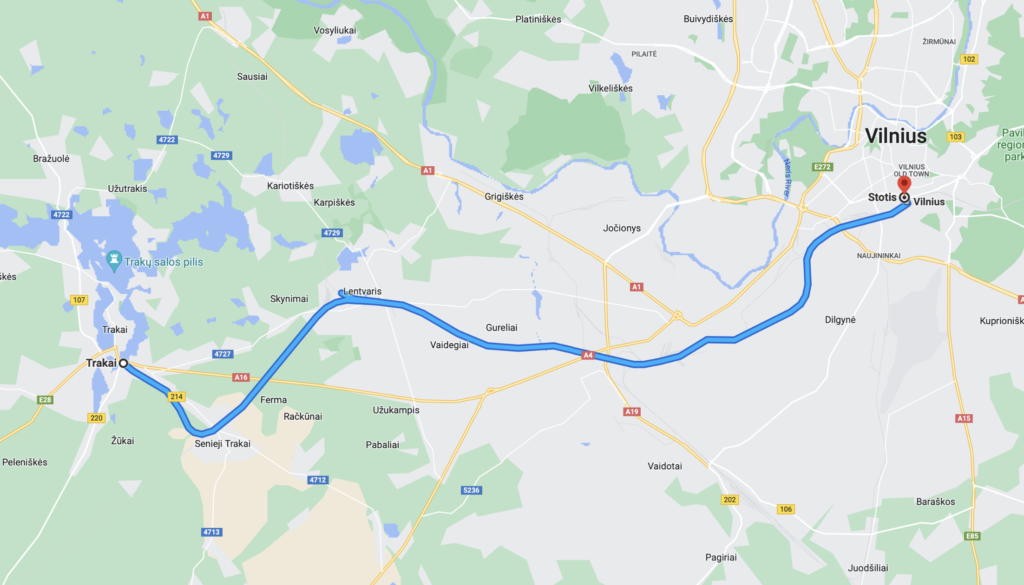 ---
#1. Train
One of the most popular and comfortable ways to get to Trakai is using the train. This option departs from the main Vilnius station (Stotis) and arrives at the Trakai train station. The Trakai station shouldn't be confused with Senieji Trakai- which is a completely different part of the area! Trakai is the 'end of the line', so if you see everyone get off the train, it's a good sign you're where you need to be.
Buying tickets online (at the time of writing this article) is about 2,40€ each way in 2nd class and 4,40€ each way in first class. This means the cheapest round trip will cost about 5€.
You can also buy tickets using card or cash at the Vilnius train station or hop onboard and buy a train ticket from the conductor. The train station at Trakai is usually unmanned, meaning that on the return journey to Vilnius, payment will be collected onboard by the train conductor.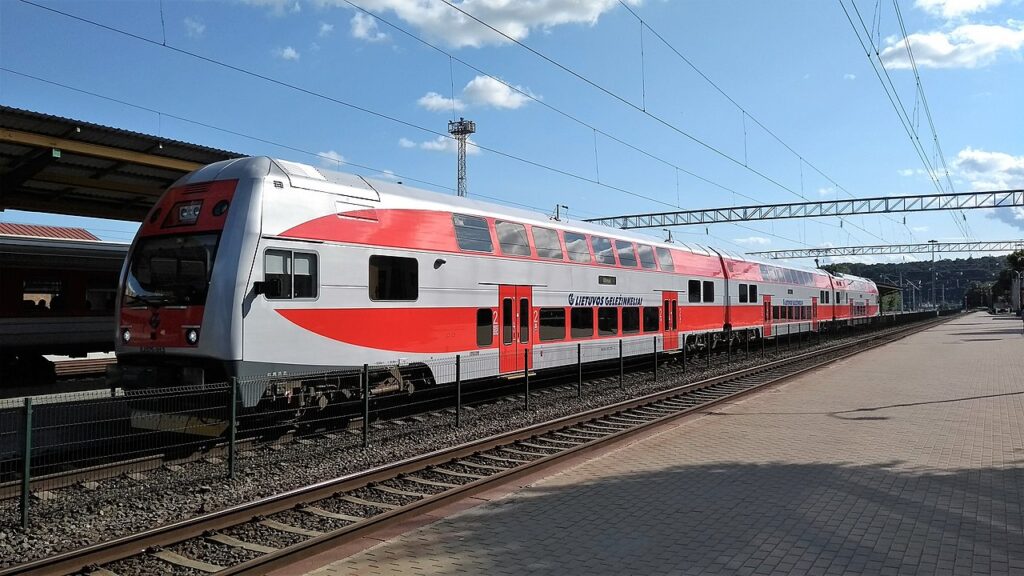 There are two main downsides to the train.
The first is that trains aren't all that frequent, meaning that you'll need to plan your trip carefully if you want to go by rail.
Secondly, the Trakai train station is a little bit far from the town and the island castle. In fact, it's almost 3km. This will take the average person more than 30 minutes to walk. It's good exercise… but not something you want to endure in bad weather…
You can find schedules and purchase tickets at traukiniobilietas.lt/
#2. Bus
The second option is the bus. This is not to be confused with the Vilnius public transportation system.
Departing from the main bus station located across from the train station, buses to Trakai are a lot more frequent. That's because at least 3 different companies offer service on this route.
While bus schedules can be viewed online at autobusubilietai.lt, only the company Kautra sells tickets on the internet. 
Services operated by other companies may require that you buy a ticket at the station with either card or cash. And in other cases, you can (or have to) pay the driver. Unfortunately, some bus drivers ONLY accept cash. So this is something you need to be prepared for.
The main benefit of taking the bus is that it's far more frequent, giving you more flexibility for your trip. 
Another benefit is that the bus station is about 600 meters closer to the town and castle than the train station. This will save you a little bit of time and energy if you plan to walk there.
The biggest drawbacks are the lack of payment options as well as the noise and discomfort of taking certain buses. It's definitely not as clean and spacious as the train… but at least it's a relatively short ride.
#3 & #4. Taxi/Bolt
Taxi and Bolt are somewhat the same but slightly different. In a way, both are taxis, but one of these is technically Bolt!
Either way, ordering a taxi and having someone drive you to Trakai will probably be the most comfortable but also the most expensive. At the time of writing, it costs about 30€ one way when booking a Bolt from Vilnius. It could be twice as much with a taxi. Of course, if you travel with one or two other people, the cost per person is a lot less…  it's still at least 2x as much as the other options… but a lot less than one person in a taxi!
#5. Car sharing program (CityBee, Spark, Bolt Drive)
Our final option is actually driving yourself by using a car-sharing program.
In Vilnius, car sharing is dominated by three companies now:
This could cost around 10€ per hour but you'll have to consider your parking options upon arrival.
Using one of these car-sharing programs will offer you the highest level of convenience and comfort, although you will need to deal with the added stress of navigation and parking (which will vary depending on the time of day or time of year!).
So hopefully this gives you the information you need to plan a trip to Trakai. After making the journey once or twice, I'm sure you'll feel comfortable with it; but the first time can be a little bit intimidating. 
In the end, however, there's nothing to worry about as long as you check the bus and train schedules ahead of time and carry a little bit of cash with you in case your bus is cash-only.
Are you planning on taking a trip to Trakai any time soon? Share your plan by leaving a comment!