Getting A SIM Card In Lithuania (So Easy!)
The one thing you need to know is that getting a SIM card in Lithuania is as cheap and easy as it gets!
Yes, free WiFi is available in many restaurants and cafes in Lithuania. But it's hard to beat the convenience of having access to the internet on your phone – especially if you want to book a taxi or arrange a meeting with friends. At the same time, roaming charges on foreign sim cards can get quite expensive – especially if you're coming from somewhere like Australia or Canada!
So let's go over how to get a SIM Card in Lithuania. Not only are they easy to get, but Lithuanian SIM cards are also some of the cheapest, offering large amounts of internet data for relatively little money.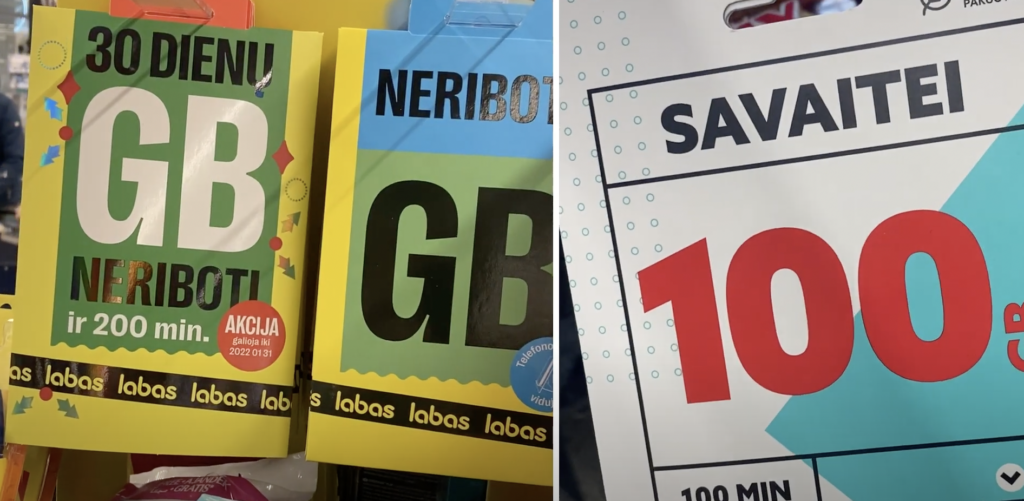 Where to get a SIM card
Prepaid SIM cards are available all over the city: Narvesen convenience stores, Lietuvos Spauda newsstands, and at many supermarkets, like Maxima, IKI, and Rimi.
Some countries, such as India or Malaysia, require a passport to get a SIM Card. It might also require a time-consuming registration process and even a waiting period for activation. You may experience this in other countries around the world, but not in Lithuania!
In Lithuania, you can buy a SIM Card from any of the stores mentioned above without any registration required. Just purchase it, put it into your phone, and start using it.
Very very low prices!
Prices great too! You can get a card with voice-minutes, SMS messages, and a small amount of data for as little as one or two euros! And, for just a little more, you can get something that will be much more useful for a few weeks in the country.
We won't go through all of the plans available, but let's cover the main companies and cards to look for. When it comes to prepaid SIM cards, look for three brands:
In case you see other phone company signs out there (Bitė, Tele2, Telia), the above three prepaid SIM caard brands are simply subsidiaries of those bigger companies.
Pildyk is the prepaid brand for Tele2
Labas is a subsidiary of Bitė
And Ežys is the prepaid brand for Telia
Telia has an additional Sim card brand called TeliaExtra, but these cards don't seem to be as common.
Other things to know
There are three important things to know about prepaid SIM cards in Lithuania.
First, the cards tend to have an expiry date after you start using them. In the case of Pildyk packages you can buy from the store, validity varies between seven and 30 days. This is definitely something to pay attention to when you're considering which card to get for a short-term trip.
Secondly, after the validity of the card expires, you will need to learn how to top up the card and purchase additional plans… assuming you want to keep the same phone number. This can be done online on company websites, but also using the various apps of these companies. If you can't be bothered to do this, then it shouldn't be a problem to just get another SIM card…
Finally, it looks like all of the plans offered on the initial SIM Card at purchase are only applicable within Lithuania. So if you're planning to do a road trip across the Baltics, or visit Poland, you may need to make some additions to your plan. For example, in the case of Pildyk, you would have to buy a card and add an EU plan for use outside of Lithuania.
It seems a little better in the case of Ezys, as EU data access is built-in to their plans. For example, it looks like if you buy a plan for 9 gigabytes in Lithuania, you can use 5.1 gigabytes across the EU – something that would be extremely convenient if you're exploring the rest of the continent. However, it doesn't look like their store-bought SIM cards offer this; so you would need to add a proper plan to the card afterward.
Spring 2023 Update: Mobile service providers are beginning to offer eSIM cards. This is great news since it will allow you to keep your home SIM card in your phone (in case you need to keep that line active to receive work calls). Pilyk is one company that offers eSIMs. This will allow you to get Lithuanian mobile data service without having to physically go in to a store and buy a physical SIM card! You can check out Pildyk's eSiM options here.
So, to wrap it up, getting a SIM Card with mobile internet access, and a phone number is extremely cheap and easy in Lithuania- something that should be more common around the world!